What happened when I clicked on that underwear ad
single post
Online shopping, irresponsible consumerism, hopes and desires
To date, I have never purchased anything that I discovered via an ad on any social media platform. Due to the nature of targeted online marketing I regularly see ads on my personal feeds for things I have already purchased, but I have a strong distrust of what their algorithms propose to me, especially when they are not-so-subtly hinting that I might not like my body as it is. I'm talking about those ads entitled "Loose-fitting tops", and those teaser videos where a well-rounded model pulls on a stretchy garment that smooths out every bump and makes her two sizes skinnier. I am a tech-savvy person who primarily uses these platforms as business tools and compared to normal people, I spend very little time using them for my own diversion. Because of my uncooperative behaviour, these platforms don't "like" me very much and I have to jump through hoops to get my own content properly viewed.
But then, it happened.
I got sucked in while falling asleep one night, smartphone in hand, scrolling through the day's postings for the first time in weeks. Before I knew it, I'd clicked on a link to a website selling promising-looking undergarments that claimed they would be the epitome of comfort for my naturally gravity-enhanced body parts, on sale for — get this — only 4 hours, 13 minutes and 23 more seconds at Black Friday slashed prices.
It took me a long time to go for it, and if I hadn't also just finished off a nice micro-brew I probably would have moved on, but it was already too late. I read everything I could find about the company and what it made, but there was no verifiable information to be found anywhere about where the garments were made or where they shipped from. Still, the style of writing and good English on the website, and the promised delivery turnaround led me to believe that it was a North American-based business. They had obviously spent a kazillion dollars on social media marketing and brand promotion, and let's be honest — I've only been in an actual clothing store three times since January 2020 and I just wanted to believe them. The world can seem so deceptive and shallow these days and I needed to feel better about it and to believe that something was real. I needed possibilities, dammit.
I switched back and forth between the US and Canada versions of the site to see if my southern neighbours were getting a better deal and finally decided that it seemed legit. Of course, if I lived in the US, my shipping would be free (we're kinda used to this here in Canada). So I crossed my fingers and placed my order for about $60, which was very, very reasonable for what I ordered, plus $12 shipping (a special holiday rate that wasn't too shocking). Within seconds I'd received email order confirmation and minutes later, a shipping and tracking notification. Then I went to sleep and completely forgot about it.
Where in the world is my underwear?
This morning, a few weeks later, I suddenly remembered that I had placed the order and should be receiving some amazing, life-altering underwear at any moment. I grabbed my coffee and headed down to my studio to check my shipping confirmation email. I clicked on the tracking link and was taken to a page displaying an ominous message that said my tracking number didn't exist in their system. My credit card had already been charged for the transaction. Oh shit.

Encouraging tracking message.
I somewhat desperately opened a chat with the tracking company and after a short bot exchange (part of the new normal), was helped by an actual person who told me that this package wasn't in their system at all and it wasn't they who had handled it, but they could see that it had come from China to Canada and was out for delivery in my tiny Québec village. I asked how they could possibly know that and learned that these companies have access to delivery information the way travel agents have access to flight details. Wow! Interesting. I thanked them, but just to be sure, moved on to the seller's website where I had not created an account at purchase time (because I was suspicious of them), so of course I couldn't track my order that way. Aargh.
I visited the site's Help page and initiated a chat. I succeeded in getting a live person after a particularly inane help-bot "conversation", the kind where you just want to tell the patronizing bot to fuck off (what kind of person writes those conversation prompts anyway?). Human helper Zoey came to my rescue after asking for my name, email and order number. I was informed that my order would indeed arrive today. I asked why the tracking number didn't work (simply because I'm pig-headed) and Zoey didn't provide an actual answer but did offer up a link to a page with a completely different tracking service from the one in the email. This page confirmed all the details that the other (wrong) tracking service had previously described to me.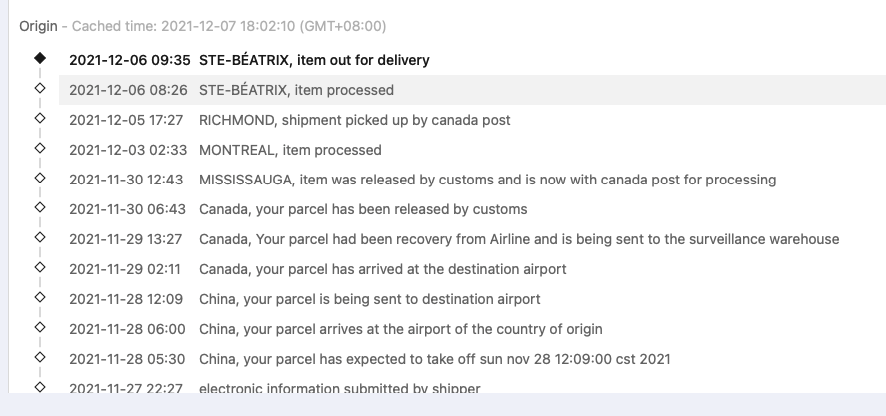 Package tracking details.
Inquiring minds want to know…
I had the solution to the shipping problem, but by now my full stubborn gene had kicked in. After searching a little harder, I found that the brand is part of a "digital marketplace" featuring multiple brands, among them several brand names of their own as well as a number of well-known US brand names. Owned by a South American company (their email footer confirms this), they can claim about one-fifth of the US "shapewear" market (I didn't even know this was a thing–I thought it was all just underwear). One of their co-founders even made it into the Forbes 30 under 30 in 2021 and their corporate headquarters are in the western US.
It proved impossible to find any information about where this company manufactured its goods. My search failed completely except for the hot tips I got from my two unplanned tracking inquiries. Even independent reviewers couldn't say for sure, although they did mention not knowing. I find this lack of transparency disturbing from a company that spends big-time on marketing.
While searching their website for details, I spotted a curious link at the bottom of their home page entitled "Do not sell" that led to a form (see image) that contained no explanatory text. I didn't understand what it was for, so I searched on "do not sell" and discovered that it referred to a request not to sell my personal details to other marketers. Ironically, though, in order to submit this form requesting respect for my privacy, I would have to provide my name, email and postal address. Does that mean that when I purchase from them, and don't happen to notice this link in itsy-bitsy type, I am being resold by default? I'm guessing the answer is a big YES.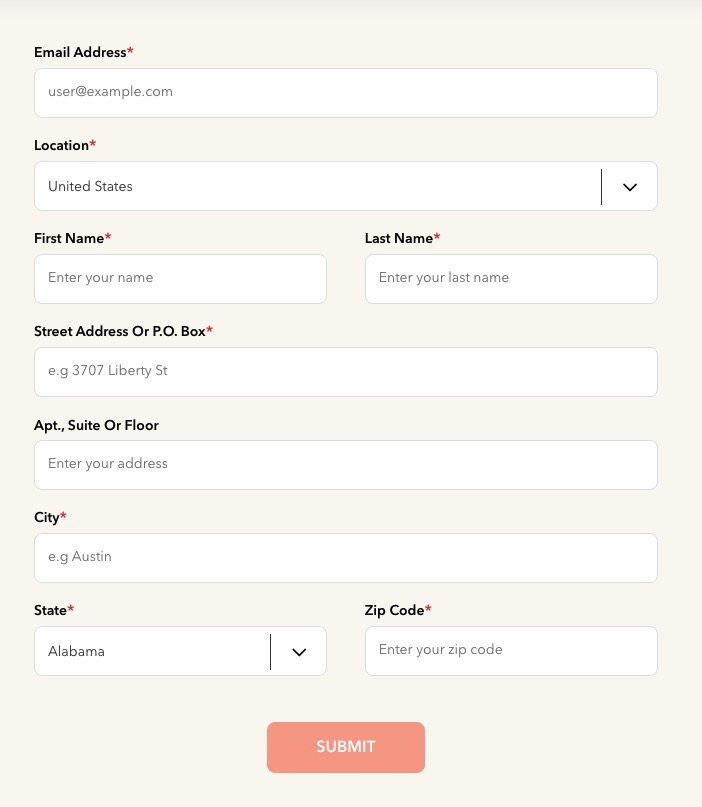 Do Not Sell form wanting yet more information.
If there is a moral to this story it is actually more of a reflection, because despite my suspicions, my package arrived today as promised. The product mostly lived up to its marketing hype (the ivory garment fit slightly better than the black one, probably due to some slight human sewing error) and the items had tags confirming that my purchase was indeed made in China.
Somebody in China surely got paid way too little to make me more comfortable in my pandemic-reengineered body. And I am slightly ashamed at my inability to make do with what I already had, however unattractive or uncomfortable. And sorry to have aided and abetted climate warming without driving my car anywhere at all.
Extra : I used to write advertising copy for Champion bras. Just in case you're interested.
Photo © Pablo Heimplatz / Unsplash